'The Crafty Plum's' community art project sparks creativity | News
3 min read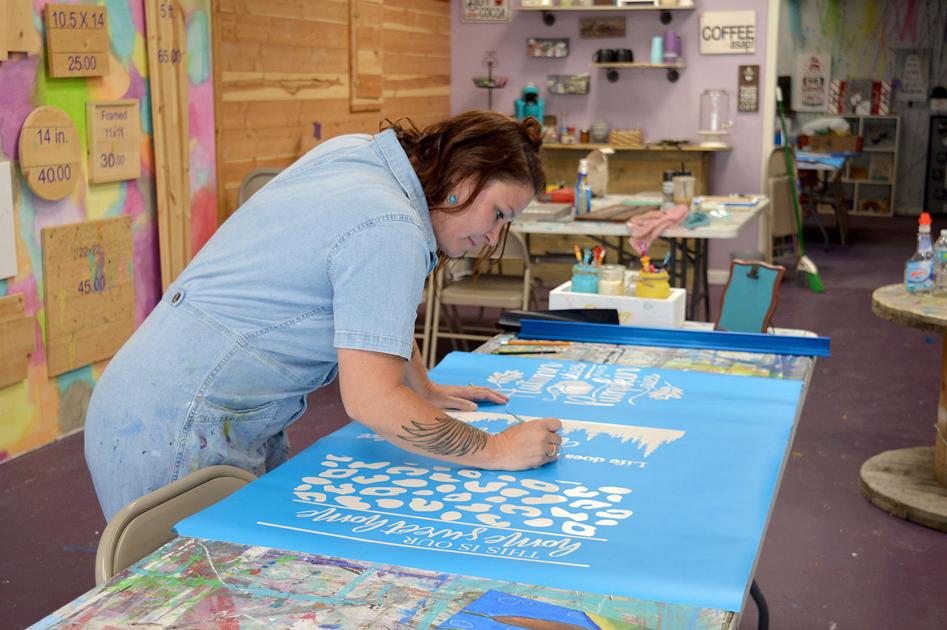 MONTICELLO — Creativity and color are two goals Christin Lowry had in mind when she opened The Crafty Plum DIY shop in downtown Monticello three years ago.
So the community wall art decorating the outside of her building definitely fits in with her vision.
"My husband, Scott, and I have owned this building for the past five years. I have tried having the outside wall cleaned, power washed and painted but it still always looked dingy," Lowry said. "It was while I was preparing for this year's Spirit of Monticello Festival that I knew I had to do something to make this building look better."
The idea came together at the last minute and took a shape of its own in making what has become one of the downtown's most colorful attractions.
"I host a kid's night once a month where I offer a designated craft for the young students to make. It just so happened, in June, the activity was squirt gun painting on canvas," Lowry said. "I decided to offer it to festival goers in my studio; then an idea bloomed and I decided some community creativity is exactly what that wall needed."
Anyone who wanted to participate was encouraged to share their talent with a gun full of paint and a massive white cement wall.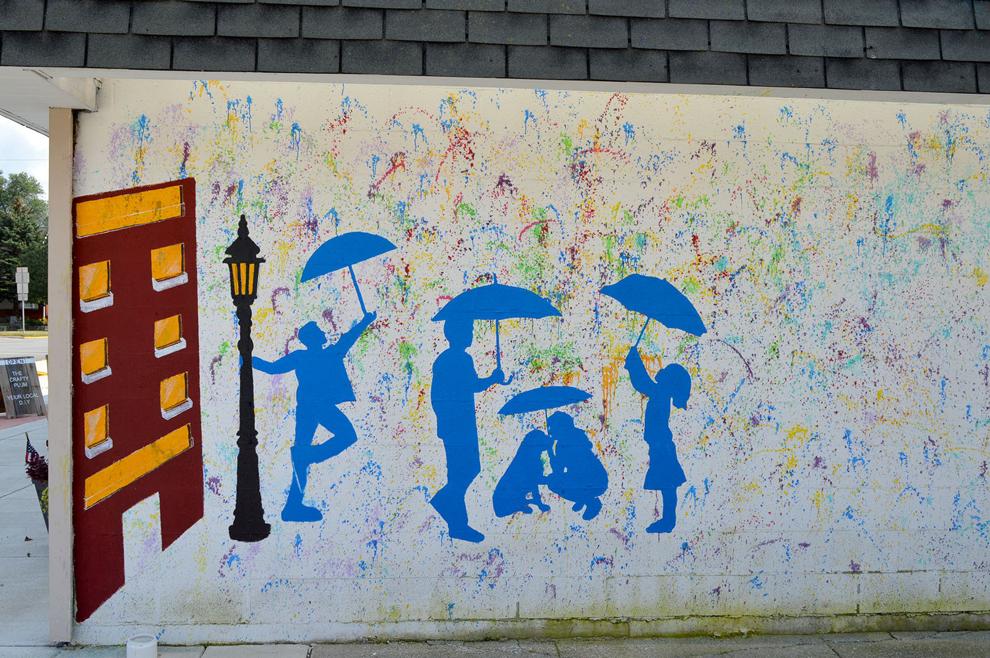 "It was such an impromptu action, it really made it exciting," Lowry said. "People had fun doing it and loved that they were going to be a permanent part of beatifying the downtown business area."
Other business owners in the area have been supportive of the new mural and as Lowry adds new silhouettes frequently, there is always something new to see.
"I add things whenever I feel inspired and have time," she laughed. "My plan is to keep expanding until the entire side of the building is covered in beautiful color."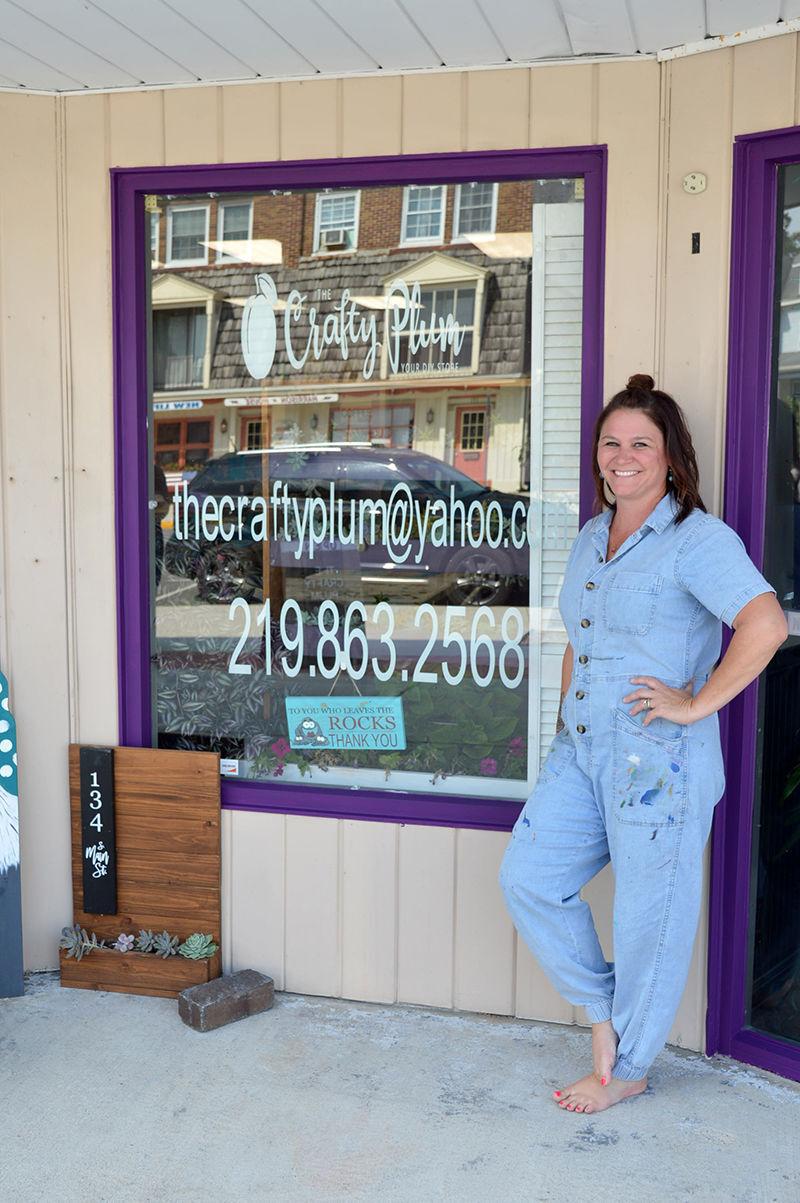 Lowry has been very adaptable and accommodating during the past year of operation.
"When everything started to close down, I knew I needed to do something to help parents, kids, and everyone who enjoyed expressing themselves through creativity occupy their time at home," she said. "This is when I started designing and organizing 'pay and take' kits for curbside pickup."
Lowry continues to offer the take-home kits as well as opening her studio for numerous scheduled events.
"The second Wednesday of each month, I have a kid's night where parents can bring in their children for a night of fun for only $25. We've painted canvas pencil bags, mural stepping stones, and garden stakes this summer. Every month is something different and creative," she said. "I also have Trivia Night once a month and offer an 'Open Craft Bar' several times a week so people can drop in when they are feeling creative. If I'm open, you can paint!"
The Crafty Plum is located at 134 S. Main St., Monticello. Open Craft Bar Times are: Wednesday, 11 a.m. to 5 p.m.; Thursday, 1-7 p.m.; Friday, 11 a.m. to 5 p.m.; and Saturday, 11 a.m. to 4 p.m. Other times are available by appointment.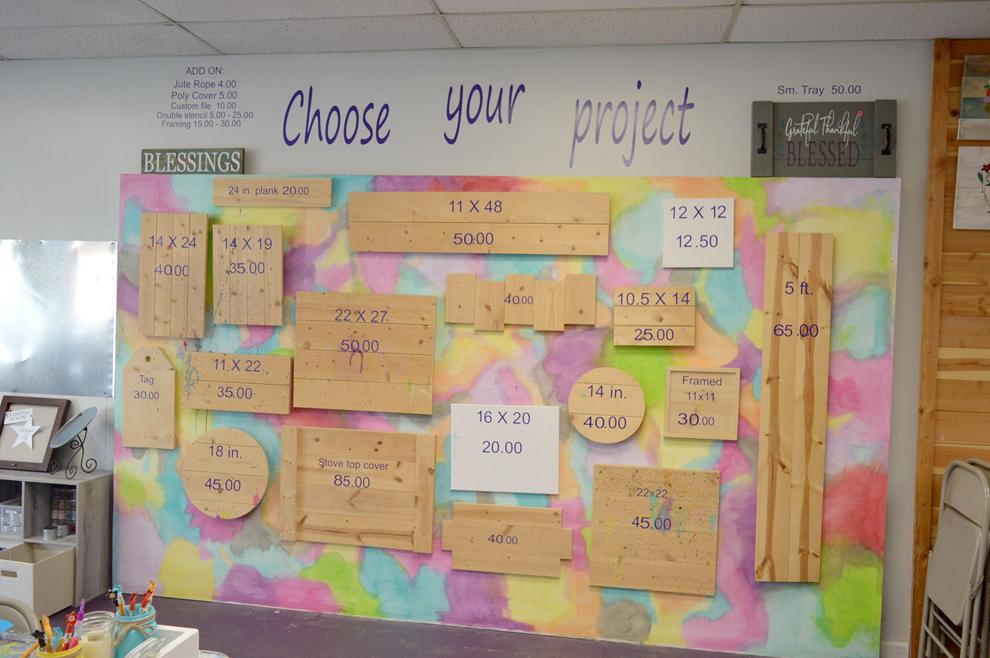 "I also do private parties such as bachelorette, birthday, and showers at your site or mine," Lowry said. "The options are limitless with wood, canvas, painting, tie-dying and — coming soon — pottery and jewelry making."
Information about the plethora of scheduled events and pricing can be found on The Crafty Plum Facebook page or by visiting the website, www.thecraftyplum.com.
"When I saw this one empty space in our building with six other successful businesses, I knew it was meant to be a place for people to come together and feel happy, express themselves, and create one of a kind masterpieces," Lowry said. "The Crafty Plum provides this outlet for people of all ages, no matter of ability or talent.
"These are crazy times right now. We all need a little more color in our world!"